HOMEMADE CBD DOG TREATS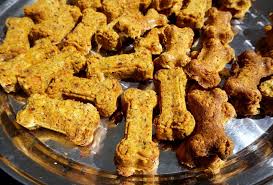 Ingredients
106⁄100000

 

ozs Pet-Safe CBD Oil
3 cups quick cooking oats
1 cup pure pureed pumpkin (NOT pumpkin pie filling)

 

½ cup xylitol free, organic peanut butter
1 tbsp coconut oil, melted
1 cup sodium-free, organic beef broth
Instructions
Preheat the oven to 325 F | 160 C. In a large bowl, whisk together 2 1/2 cups oats, pureed pumpkin, peanut butter, coconut oil, beef broth and pet-safe CBD oil. If the mixture is too wet, add the remaining oats. The batter should soft hold its shape and drop easily from the spoon.
Measure out the batter in one tablespoon increments onto a parchment or silicone lined baking sheet. For soft cookies, bake for 20-30 minutes. For crispy cookies, bake for 40-60 minutes.
Store the CBD cookies in an airtight container in the fridge. Freeze any cookies that will not be consumed within a week. Limit your pet to 2 cookies a day - and let them enjoy the relaxing benefits of CBD!
Posted : 22/04/2020 9:08 am