Pain Free Home Fries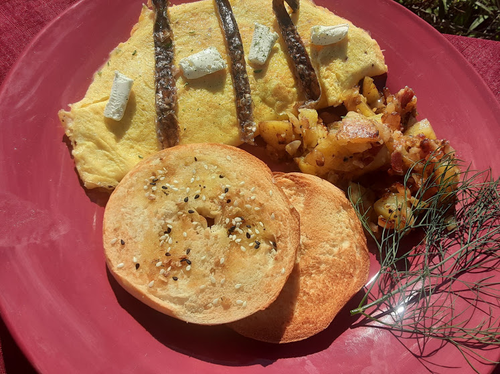 Ingredients                      Servings 4
1/2 C small diced onions
Add diced peppers if you prefer
2 C large diced waxy potato
4 slices of bacon reserve fat
1 Tbl bacon fat or oil
Seasonings To Taste 
1 Tbl Bacon Cannafat or canna butter.
Equipment
Pot to blanch potatoes
Skillet
Egg Pan
Stirring utensils
Dice potatoes into water simmer until just tender on medium heat.
Small dice onion. Prepare cast iron pan.
Slice bacon and tender fat on medium heat in skillet. Add onions add seasonings after coating in fat layer in pan and allow to carmalize.
Strain cooked potatoes add to skillet and season again. Layer and allow to brown. DO NOT OVER STIR let the pan do the work.
Finish with canna oil to coat. Do not add when still sizzling. The delicateness of the canna medium needs to be .
Salmon cream cheese omelet
Other options
Ham and Swiss
Tomato and Mozzerella
Sausage and cheddar
Other options
Ham and Swiss
Tomato and Mozzerella
Sausage and cheddar
On a low meduium heat warm the chosen ingredients for your omelete and set aside.
Add the eggs and gently lift the sides of the egg to folw under to ensure doneness with little browning.
Season and add ingredients when 90%of egg is solid gently fold over and remove from heat allow to rest.
Mix everything bagel seasoning with canna butter and spread it on plain bagels.
Notes...
I cook for the family so cooking then making each serving allows for me to cook once and feed no bacon wife, a no spice preffered mom and myslef using the canna butter at the end.
I usually have par cooked bacon on hand, always chop more onions than you need.
Not stirring the potaotes allows for the waxy potato ( red skin, yukon gold, or yellow potatoes) to get a nice brown sear. Post Reply your starchy potatoes ( Russet and white) for baking and mashing. 
Posted : 04/05/2020 9:33 am
The Princeton analysts said that the unintended openness of Facebook information to outsiders was not because of a bug in Facebook's Login include. "Or maybe, it is because of the absence of security limits between the principal gathering and outsider contents in the present web," they compose.
Posted : 17/02/2021 11:23 pm