Jalapeno Cannabis-Corn Dip
Jalapeno Cannabis-Corn Dip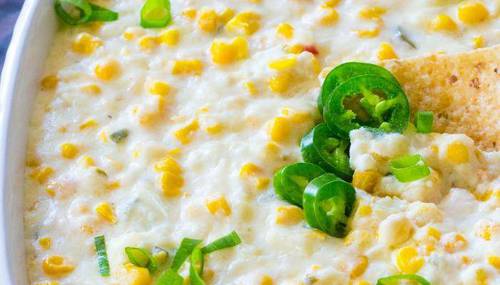 5 ears of fresh corn (

shucked

) (if fresh corn is not available substitute with 2 cans of organic sweet corn)
4 tablespoons cannabis-infused butter
2 jalapeno peppers (deveined, seeded and finely minced)
1 onion (finely diced)
1 red bell pepper (seeded and diced)
3 green onions or scallions (finely sliced)
8 ounces of cream cheese (room-temperature)
½ cup mayonnaise
½ cup sour cream
1 cup grated pepper-jack cheese
½  cup grated sharp cheddar cheese
1 teaspoon garlic powder
1 teaspoon onion powder
½ teaspoon chili powder
1 teaspoon hot sauce
1 teaspoon Worcestershire sauce
Salt and pepper to taste
Baking dish/casserole dish

Nonstick

 cooking spray
To begin, preheat your oven to 350 degrees Fahrenheit.
Next, thoroughly wash the peppers and green onions, then allow them to dry.
Proceed to slice the green onions, dice the onion and red pepper, and finely mince the jalapenos. Set these veggies to the side for now.
Next, shuck the corn and carefully shave off the kernels using a sharp knife. Collect the kernels from all your ears of corn on a plate and set them to the side.
In a large skillet, over medium heat, melt the 4 tablespoons of cannabis-infused butter.
Once melted, throw in the corn kernels and allow them to cook for 3-4 minutes. You want the kernels to develop a nice golden-brown color.
When the kernels reach the desired color, add the red bell pepper, jalapenos and onion. Stir and allow the mixture to cook for several minutes until the red bell pepper becomes tender and the onions become translucent – set the veggies to the side for now.
In a large bowl, combine the room-temperature cream cheese, sour cream, mayonnaise, sliced green onions, garlic powder, onion powder, chili powder, hot sauce and Worcestershire sauce. Season to taste with both salt and pepper, and stir until everything is well mixed.
Then, grate both of the cheeses. Add only ½ of the pepper-jack and all of the cheddar cheese to the cream-cheese mixture (the remaining ½ cup of pepper-jack will be used to crown the dip once it's in the dish).
Finally, add the corn-veggie blend to the bowl and mix well to fully combine all the ingredients into the dip.
Pour the mixture into a greased baking dish or casserole dish, and top the corn dip with the remaining ½ cup of grated pepper-jack cheese.
Pop the corn dip into your preheated oven and allow it to cook for 20-25 minutes, or until it is bubbly and piping hot!
Remove the dip from the oven and allow it to stand for several minutes before serving (nobody likes burnt taste buds).
Serve the corn dip with your choice of tortilla chips, pita chips, crackers, etc.
Enjoy!
Posted : 22/04/2020 5:54 am
Wouldn't eat it for breakfast, but would make a great snack watching football.
Posted : 22/04/2020 6:15 am